I got tired of waiting for one to be released by AZL and hired
Trains at eNKay Design
to build me one.
Attachment:
File comment: BN GP50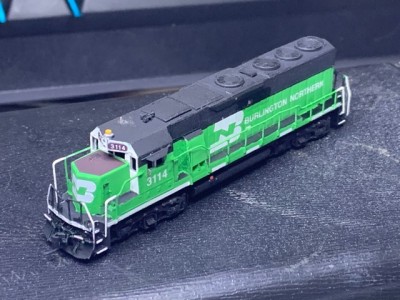 80889748_544052446184464_4010428311095214080_n.jpg [ 83.7 KiB | Viewed 8942 times ]
Gerd built this unit as BN GP50 3114 based on AZL GP38-2
An extreme kitbash, super detailed (laundry chute, fans, louvers, beacon, roof installations, lift rings, sun shades, grab irons, break lever, MU-cable, MU-hoses, closed front pilot with snow plough, enlarged tank, new anti-climber, rear windows open up, windscreen wipers, rear view mirrors, etc.)
TCS - DCC with working ditch lights
Custom decals and paint job - super detailed
Working ditch lights
soon to be programmed as horn activated strobe lights if the folks at TCS can steer me in the right direction.