---
These Shapeways 3D printed shells are available from AllanGBorg's Mohican Models store front.
They are only available printed in Frosted Ultra Detail (Matte translucent plastic that showcases fine and intricate details) for $17.49.

These are a good start for a high hood conversion, but the grills would look better if they were photo etched as the 3D printing is not nearly as good in detail.



Attachments:
File comment: Shell, Dynamics, Cab and other parts shown alongside undecorated AZL GP-38 Shell.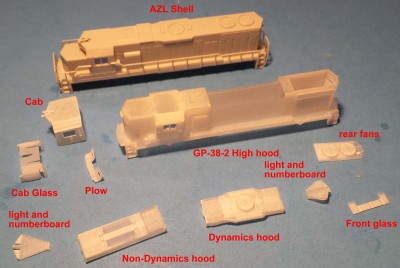 20140716_193254.jpg [ 104.74 KiB | Viewed 15925 times ]